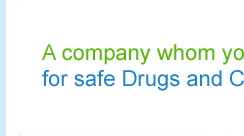 Home » Finished Formulation » Proguanil Hydrochloride Tablets
Proguanil Hydrochloride Tablets
Proguanil is biguanide compound which has little antimalarial activity until metabolized in the body to the active antimalarial drug cycloguanil. Cycloguanil inhibits plasmodium dyhydrofolate reductase and thus disrupts synthesis of nucleic acids in the parasite. Cycloguanil is active against pre-erythrocytic forms and is a slow acting blood scizontocide.
Pharmacokinetics:

Proguanil is ready absorbed from the gastro-intestinal tract following oral doses, peak plasma concentrations occurring within about 4 hours. Proguanil is metabolized in the liver to the active metabolite cycloguanil. Peak plasma concentrations of cycloguanil occur approximately one hour after those of the parent drug. The elimination half-life for both Proguanil & cycloguanil are about 20 hours. About 40% to 60% of Proguanil is eliminated in the urine, of which 60% is unchanged & 30% cycloguanil. There is also some elimination via faeces. Proguanil is distributed into breast milk in small amount.

Uses

Proguanil is an effective antimalarial agent. It is used for the prevention and treatment of uncomplicated malaria.

Doses & Administration:

It is generally recommended that chemoprophylaxis for travelers should be started about one or two weeks before exposure to malaria, but if this is not possible, it can be started 1 to 2 days prior to travel. Administration should continue throughout exposure and for at least 4 weeks after leaving the malarious area.

Prevention Of Malaria:

Adults: 200 mg [2 tablets daily]
Children: Upto 1 Year: 25 mg [¼ tablet daily]
1 to 4 Years: 50 mg [½ tablet]
5 to 8 Years: 100 mg [1 tablet daily]
9 to 15 Years: 150 mg[1½ tablets daily]


Tablets to be taken with or after food. For children tablets may be crushed and mixed with milk, honey or jam.
Contraindications & Warnings:

Proguanil should be used with caution in patients with renal impairment; dosage should be reduced accordingly. Proguanil is contraindicated in patients with known allergy or any of the excipients used.

Adversed Effects:

Apart from mild gastric intolerance, diarrhoea and some reports of aphthous ulceration there appear to be few adverse effects associated with usual doses of Proguanil hydrochloride. Haematological changes may occur in patients with severe renal impairment.

Interactions:

Fluvoxamine can virtually abolish the metabolism of Proguanil to its active metabolite cycloguanil via an inhibitory effect on the cytochrome P450 isoenzyme CYP2C19.

Pharmaceutical Precautions:

Store in a dry & dark place below 25℃
Protect from light and moisture.

Presentation:

100 Tablets packed in plastic container.

Home|About Us|Our Product Range|Media Gallery|Contact Us|Enquiry

©
Yashica Pharmaceuticals Private Limited
. All Rights Reserved (
Terms of Use
)
Developed and Managed by
IndiaMART InterMESH Limited